This is a "Must Read!"
The Answers to your Questions are HERE.
You've got questions.  We've got answers.  From who we are to what we do is listed below in a question and answer format.  But if after reading these questions and answers, you have more questions, we welcome your email (

[email protected]

), call (817.305.0300), or chat (see bottom right corner).
Bathtub refinishing is also known as bathtub resurfacing, bathtub reglazing, bathtub re-enameling, and bathtub refurbishing.  Regardless of the term used, bathtub refinishing is simply a "sprayed-on" process that can make a worn, damaged bathtub look like new again.  This like-new appearance cannot be achieved with Do-It-Yourself products. Only a professional refinisher has access to the high-tech, durable coatings that are required to give a bathtub its shiny new appearance.  More importantly, only a seasoned, professional refinisher has the tools and skill to apply the surface correctly.
We are a small family owned-and-operated husband and wife team business, and have been serving the refinishing needs of the Dallas Fort Worth metroplex for over 43 years - since 1980!  In fact, we are the oldest family owned-and-operated bathtub refinishing and chip repair company in the Dallas Fort Worth area.

One of the things that make us different from other refinishing companies is that we are not a franchise.  We have a vested interest in our business, and since our last name - SHARP - is also part of our company name, we put it on the line day in and day out.  We refinish nearly every day of the week, all year long, and have for over four decades.
I am Debbie, Jim's wife and the office manager, the one you will speak to when you call 817.305.0300.  I'm also the one who will respond to your emails and online chats.  My husband, Jim, and our associate, David, are the only ones who do the refinishing.  Work is never sub-contracted out to anyone.  
Being in the refinishing business for over 40 years means we've just about seen and done it all when it comes to repairing and refinishing bathtubs, showers, and shower floors.   We also know all too well that there are good and bad workers in any industry, and unfortunately, the refinishing business is no different.  That's why it's so important to make sure the company YOU choose has

lots

of experience - and an

abundance

of good ratings online.
To that end, we have over 100 A+ and 5-star ratings online.  NO BAD REVIEWS.  Check it out by searching for Sharp Refinishing on Google, Yelp, Nextdoor, or Angie's List.  We aren't the cheapest or the most expensive out there, but we are the best in what we do.  From the high quality refinishing products that we have located and chosen to use, to the meticulous care we take with every single job, you will never be disappointed with our work.  Just take a look at our long list of satisfied

customers

.
If you can buy a new bathtub for the same cost as having one refinished, why not just buy a new tub?

You can buy a brand new bathtub for the same cost as

refinishing

a bathtub, but you can't

replace

a bathtub for the same cost as refinishing!  Why?  Because houses are built around bathtubs, and the most expensive part of replacing a bathtub is definitely not the cost of the new tub.  As a matter of fact, most of the expense of replacement is initially hidden.
What are some of these hidden costs?  Removal and disposal:  Can you physically remove the tub yourself - get it out of the bathroom and through the front door - and if you can, how will you dispose of it?
If you do get that far, in the process of removing the tub, part of the bathroom tile will surely be torn away, and the hardware for the new tub may not fit the old plumbing fixtures at all.  So now you may need to hire a plumber and a tile setter as well, and on and on it can go. 
That's how you could easily end up spending thousands of dollars replacing a bathtub, and THAT'S why refinishing is such a great alternative to replacement.
From start to finish, it takes about 5-6 hours to refinish a bathtub.  The process will dry to the touch in about 12 hours.  The paper and plastic laid on the floor and put up on the walls to protect the bathroom from overspray can be removed and the tub re-caulked in as little as 24 hours.  The bathtub is ready for use 48 hours after refinishing, but will take a full 20 days for the bathtub to totally 'cure.'
To put the 'downtime' into perspective: If we're refinishing your tub on a Monday, you can use the tub that morning before we come out, and then you can use it again on Wednesday morning, so you're really only without the use of the tub for one full day.
Will a refinished bathtub look or smell like it has been painted?
Ours won't!  In fact, it is impossible for an untrained eye to tell the difference between a brand new bathtub and one that has been refinished by us.  Regarding the smell, we use a filtering system to reduce the fumes that naturally occur with the use of solvents, and we also vent out (through the nearest door or window) any fumes during spray-time (which is only about one hour of the entire 5-6 hour process).  Although you may notice a slight odor during the spray time or after we are finished, this is typically gone within a few hours.  Over the years, we've found that very few people (about 1%) are hypersensitive to smells and may choose to leave the area while the work is being done.
What needs to be done before we arrive to refinish?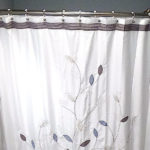 If we're refinishing a bathtub, please have everything removed from the bathroom walls, off the top of the countertops, and from around the bathtub, including the shower curtain (and rod, if it is removable), so we will have plenty of room to work and can protect the bathroom from overspray with paper, plastic, and drops.
IMPORTANT

: If there are shower doors on the tub, they must be removed before we arrive.  If you prefer for us to remove the doors (this does not include disposing of them or re-installing them), there is an additional $75 charge.  If we are refinishing a countertop or a sink, all hardware (faucets, handles, and drains) must be removed

before

we arrive.  Also, electricity and lights, access to water, and a climate-controlled (a/c and heat), semi-sterile environment are required to do our work.
What kind of product do you use to refinish?
The reason I'm even listing this question is because so many people ask it when doing their research to determine which refinishing company to hire, and they are asking this question because not all refinishing companies use the same kind of product for refinishing.  So which is the best?
All we can tell you is that in our 40+ years of experience, we have learned that there are three things that ensure successful refinishing:  (1) the type of product used, (2) the foundational preparation, and (3) the skill of the refinisher.  We have chosen to use the very best refinishing coating available.  It's more expensive than other coatings, but the end result is magnificent in terms of the way a refinished tub looks, cleans, feels, and holds up over time.
Technically speaking, the process we use is a two-component urethane, however, it is not an epoxy.  Epoxies dry brittle and will 'yellow' over time, but our coating will not.  In addition to that, our product has a vinyl base which allows the refinished surface to expand and contract in hot and cold water without cracking out.
Can a bathtub be refinished more than once?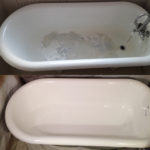 Yes, a bathtub can be refinished again ... and again, but the existing coating will have to be stripped off completely all the way back down to its original porcelain finish before a new finish can be applied.  Additionally, our 40+ years of e
xperience has taught us that the bottoms of previously refinished bathtubs tend to develop pinholes, pock marks, and dimples that may or may not be seen with the naked eye.  However, once we start to spray on the new finish, these flawed areas begin to appear. 
To help reduce this problem prior to refinishing, we fill in these flawed areas with bondo to build them up, then gently sand them smooth as part of the prep phase.  We call this process, "skinning" the tub.
Can you repair chips, nicks, scratches, and cracks from bathtubs or sinks without having to refinish them afterward?
Yes!  We've been doing chip repair for homebuilders and homeowners across the Dallas/Fort Worth metroplex for many years.  From hammers dropping into the tub, to soap dishes, shower heads, and towel bars falling off the wall, chips can happen in homes under construction, in homes just built, and in homes lived in for years!

The good news is, just because a tub or sink has chips, nicks, or scratches, it doesn't necessarily mean it has to be completely refinished.  If the damage is located above the water line, it can be repaired without being refinished afterward.
More About REPAIRS
Please note that our warranty is specifically related to the two things under our control:  workmanship and product defects.  We do not guarantee that rust, cracks, or holes won't reappear later in a bathtub, sink, shower, or shower floor if the underlying source of the damage (possibly a house shift, improper initial installation, water leak, or previous damage to the same area) has not been identified and corrected.
Can you refinish tubs that are not yet installed?
No.  We do not have a refinishing facility.  All of our work is done in customers' homes.  Because we require electricity and water for the prep, and a semi-sterile, climate-controlled environment to do the work, we cannot refinish items outside or in a garage.
How long should a refinished bathtub last?
The durability of a refinished bathtub is very similar to that of a brand new bathtub, although new tubs are only guaranteed for one year.  If properly maintained (see care instructions below), our refinished tubs could potentially last 20 years.  How do we know that for sure?  Because we have had a handful of customers whose tubs have lasted 20 years call us back to refinish them again.
At what point should refinishing work be scheduled?
Contrary to popular belief, if any other remodeling work (tiling, painting, flooring) is going to be done in the bathroom where the refinishing is to take place, we prefer to be the

last ones in

- after all the other work is finished.

Why? Because we know how to protect what's already there, and we won't damage someone else's work. Experience has taught us that other workers, unfortunately, are not as careful as we are. And accidents happen.
If plumbers or tile setters come in after us, they may drop a tool in the tub or otherwise damage our work.  We will be able to fix the damage, but depending upon the damage, our

minimum

repair charge ($175) will then apply, no matter how small the damage is or how soon after refinishing the damage occurs.
A professionally refinished surface looks, feels, and cleans like brand new, so thoroughly check your cleaning product labels to be sure you're using only mild, non-abrasive products without bleach.  Always use a non-abrasive sponge or damp cloth when cleaning because as with any new surface, the finish or shine can be dulled or damaged by abrasive applicators.

Although most liquid and foam 'green' cleaners purport to be safe, you must always read the label yourself to make sure they do not contain bleach or abrasives.  We recommend Simple Green Ready to Use, or even a wet soapy washcloth.  In any case, be sure to thoroughly rinse away your cleaning solution.
For optimal results, maintain a

non-silicone

caulking around all refinished surfaces, especially bathtubs.  We recommend Loctite's Polyseamseal Ultra (found at Lowe's), or DAP's Kwik Seal caulk (found at Home Depot).
---
Here are some things that you do not want to do to a refinished surface:
Do not  set or leave items like wet or soapy bottles, washcloths, or bar soap on bathtub or sink ledges because it can cause moisture build-up between those items and the refinished surface, which can lead to peeling, and void your warranty.  Use a shower caddy in the bath area instead.

Do not allow metal or hard plastic toys in the tub, as they can deeply scrape and even break the refinishing seal.

Do not bathe animals in the tub, as their claws could breach the surface.

Do not let a leaky faucet go unrepaired.  Even infrequent dripping can eventually cause surface bubbling and peeling.

Do not use any kind of hair dye, colored bath oils/powders, or shower gels in the bathtub or sink.  Also, if you have dye in your hair, do not rest your head on the back of the tub, as the chemicals could penetrate the surface.

If you ever use a mat in a refinished bathtub, do not leave it in the bathtub.  You must remove it after each use to avoid moisture build-up between the mat and the tub, which can lead to peeling and void your warranty.
If you have a known low spot in your tub, be sure to brush the water away from that area after bathing or showering so that water will not "pool" there and possibly cause the surface to bubble and peel.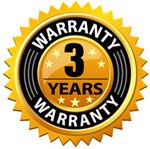 Our warranty is based on Newton's First Rule of physics in the Three Laws of Motion, which is that "an object will remain at rest or in a uniform state of motion unless that state is changed by an external force," meaning that a refinished surface can only be breached by an outside source, which would include the following bullet points, as well as the "Do's & Don'ts" in the Refinishing Care Instructions.
We warranty our refinishing work for 3 years against bubbling and peeling due to workmanship or product defects, with these 3 exclusions:
Bubbling or peeling due to chipping: A refinished surface can chip just like a non-refinished surface, so if your refinished surface does get chipped (from dropping something in the tub, for example), keep the area as dry as possible and contact us to schedule a repair (a $175

minimum

repair charge will apply).  Timing is especially important if the chip is located below the waterline, because water can eventually work its way beneath the refinished surface and cause the refinished surface to bubble and peel.

Bubbling or peeling due to moisture entrapment:  Setting and leaving items like wet or soapy bottles, jars, washcloths, or bar soap on a refinished surface can cause moisture to get trapped between these items and the refinished surface, causing it to bubble and then peel when picking up the item.  We recommend using a shower caddy or soap dish in the bath area to avoid this.

Bubbling or peeling due to unrepaired leaks:  Even infrequent dripping water on a refinished surface, especially near the drain, may cause it to eventually bubble and finally start to peel.  Don't let a leaky faucet go un-repaired.
What types of fixtures and surfaces can be refinished?
Can you refinish shower pans/floors?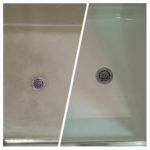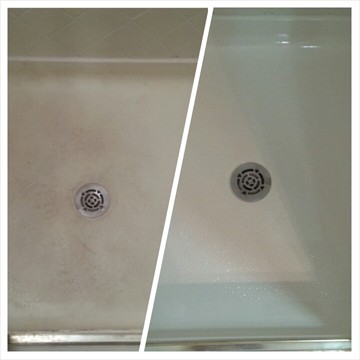 Usually, shower walls still look good by the time the shower floor starts looking dirty.  IF your shower floor is NOT made of tile, we can refinish it!  The reason we
do not refinish tiled shower floors is because it's the nature of a shower pan to hold moisture, and that moisture can work its way up through the grout lines between the tiles and eventually cause the surface to bubble and peel.  This, of course, can't happen with a cultured marble, fiberglass, or acrylic shower floor. 
What about dirty-looking tile walls that surround a bathtub?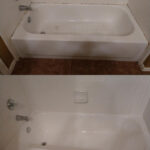 Refinishing vs. Deep Cleaning

:  WHICH DO YOU REALLY NEED?  If you want to change the color of the tiles surrounding your bathtub or inside your shower, then refinishing is what you want.  However, if you like the color of the tile, but the area just looks extremely dirty, especially around the grout lines, it doesn't necessarily mean that the tiles need to be refinished - they may only need a really deep cleaning!
If you do decide you want the walls refinished, please check the integrity of the walls behind the tiles first.  Check for loose tiles, water damage behind the walls (evidenced by a "spongy" feel to the tiles when you press on them), and missing grout.  You don't want to have the walls refinished if replacement is really what is needed due to wall damage (perhaps caused by a water leak) behind the tile.
If a deep cleaning is all you think you need, the walls will still need to be in good shape so that the tiles don't fall off the wall while being cleaned 🙂  This is not an ordinary type of cleaning that you can or would do - this is a deep clean that can really perk up the look of the tiles.  So ask us about this option.  The cost to deep clean a standard 50sf surround (3 walls of tile that are 5 feet high) is $250.
Our pricing is based on a white or off-white finish, but if you want a special color and have the specific name and/or number of it, we can probably special order it ($125) from our coating manufacturer.  Please note we do not refinish in dark colors.  Why?  Because even in the semi-sterile environment we try to achieve, there are still minute dust particles that float through the air that are easily seen on a dark surface.
If you don't need a special color and are just trying to match the color to an existing toilet or countertop that is some variation of white or off-white, Jim has a great eye for color, and can tint the pure white color he starts off with to closely match the white or off-white color you already have.
Is there any plumbing work involved during refinishing?
On all bathtubs before refinishing, we really prefer to remove the drain and overflow cover so that we can get a complete surface to spray.  We want to spray behind the overflow cover and beneath the 'ring' around the drain so that when they are re-installed (or a new set is installed) the day after refinishing, the new hardware is going on top of the refinished surface.  That's why we ask our customers to make sure the existing drain can be removed long before the scheduled refinishing appointment, which will ensure it can indeed be removed by us when we get there to refinish.  Another reason to make sure the drain is removable is that you may discover you have a leak or some other issue that will need to be fixed before the tub can be refinished.

How do you remove the drain?  Look down the hole where the water goes out - you'll see a crossbar.  Either use a drain puller (available from Home Depot for about $10) or get some pliers to unscrew the crossbar (counter-clockwise, like you would unscrew a jar lid).  The entire drain (not the plumbing the drain connects to) with the little silver ring will lift out.  You may have to use some muscle to loosen it - it might even break if it's been in there for more than 40 years, but you'll want to know that beforehand so it can be fixed long before we arrive to refinish.
If you do not want to risk breaking the drain when trying to remove it, we have a $50 workaround for that, which involves installing a fully-functioning chrome piece that covers the existing drain.  In any case, because your bathtub is going to look brand new after being refinished, this is definitely the time to replace an old drain and overflow cover with a brand new shiny set.
Regarding bathroom sinks and oversized cultured marble, fiberglass, or acrylic bathtubs ... the plumbing fixtures (spout, handles, and drain) really need to be removed prior to refinishing so that the area behind them can be refinished, which makes this an opportune time to replace all your old hardware.  Please note you'll want to do this long before refinishing to ensure the new hardware fits the old plumbing and that there are no leaks.
Also, if you have shower doors on your bathtub, you will need to have them removed before refinishing.  If you prefer for us to remove them, the cost is $75, but this does not include disposing of the doors or re-installing them.  Alternately, you may choose to do this work yourself or hire a handyman to do it.
What about anti-slip surfaces?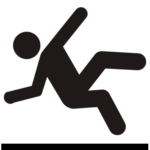 A newly refinished tub is going to look, clean, and feel like a brand new tub, which means it is going to feel slicker than what you've been used to.  Because of this, you must exercise some caution for a few weeks when stepping into the tub. 
There is no fail-safe way to avoid slipping in a tub, whether refinished or not

, but you may want to add an anti-slip treatment ($125) to the tub bottom.  Again,

this does not guarantee against slipping in the tub

.  This particular anti-slip treatment is not a traditional glue-down mat.  It is an anti-slip surface that is applied to the tub bottom between the primer and top coats.  It can be detected visually at certain angles depending on the light, but is barely noticeable.
If your tub has never been refinished and you're only looking for an anti-slip solution, we can apply a treatment to the tub bottom that you cannot feel or see until it gets wet.  Water activates the grip of this anti-slip surface.  Cost is $325 for this service.
Can I get a FREE estimate?
YES! The quickest and easiest way to get an estimate is to take a picture of the items you want refinished, and then email them to

[email protected]

.  Using technology in this way allows us to quickly create your bid by eliminating a personal trip, which in turn, saves you time in receiving a bid and deciding if you want to schedule the work.
Because we require a paper trail of all our communication, we do not use a cell phone for communication.  Out office number is a landline phone that does accept texts, but we only use those for customers who cannot send images from an email address.  All communication after an initial text image must be conducted through email.
Which kinds of payment methods do you offer?
Payment is due at time of service, before we leave the premises, and our only accepted methods of payment are cash, check, or Zelle.  We are a small, family-owned-and-operated business, and we do not accept mailed payments or credit cards, nor do we extend payment terms or work through third parties for payment.  We will provide you with a PAID invoice by email after the work is completed and payment has been made.  Thank you for your understanding!
How can I reach you?
By email ([email protected]) phone (817.305.0300), or chat here on this website (bottom right corner of your screen).
We personally answer all of our emails and telephone calls, but if you do happen to reach the message center between the hours of 10am-5pm, it means we are on the other line with another customer or are temporarily away from the office.  Please leave a message, because we will call you back in a timely manner!
Meanwhile, if you're just looking for a quick estimate, go to our Quick Bid page to answer a few simple questions that will get the process going.
Have you/will you train others on how to start a Bathtub Refinishing business?
Yes, we have and we will, as long as you are not located near the Dallas/Fort Worth metroplex.  We are featured as a professional trainer in Andrea Scott's 'tell all' book entitled "Staying Afloat in the Bathtub Business - How to Break Into and Succeed in the Refinishing Industry" (click here to view or purchase on Amazon).

Our 2-week training is extensive, intensive, and thorough in every way.  You will go with Jim every day on jobs so that he can teach you absolutely everything there is to know about refinishing - but most importantly, how to do it right the first time, every time.   He is meticulous - no shortcuts - and that's why we've been successful in business for so long.
You will have the opportunity to see him refinish bathtubs.   After you've confirmed the training dates, we will set up jobs for the maximum amount of variety.   Usually during week two, you will start to spray.  Not only will Jim show you how to do the work, he will also show you how to deal with customers. Jim is a very gentle soul, and people just love him. It makes a difference, and we get many, many referrals because of how he treats our customers.
Office-wise, I will show you how we do business, from having a website to bidding jobs over the phone to follow-up, which includes our documentation for sending estimates by email, confirming jobs a week before, and thanking customers after the job. We are a well-oiled team and love what we do.  We'll do everything we can to teach you to do and be the same.  Part of the $5000 fee includes acquiring a list of all our suppliers that we have found and chosen to use over the past 40+ years, which in itself is priceless.
---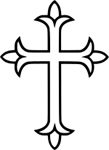 And of course, the most important thing in our lives is sharing our love for Christ and pointing others to him for eternal salvation.  If you haven't received that free gift from God, click on the cross to read how.  If you have any questions, please let us know!
Although we have high-quality work ethics and skills, what drives our excellence is Who we're ultimately serving.  Colossians 3:23:  "Put your heart and soul into every activity you do, as though you are doing it for the Lord Himself and not merely for others."  We're working for the Lord and not for man. It's important and drives our every decision in life.
Service Areas
Our service areas extend to most of the Dallas Fort Worth metroplex. Jim's home base is Colleyville, so he generally services the cities of Argyle, Bedford, Carrollton, Colleyville, Coppell, Euless, Flower Mound, Fort Worth, Grapevine, Haltom City, Haslet, Hurst, Justin, Keller, Lewisville, Northlake, North Richland Hills, Richland Hills, Roanoke, Saginaw, Southlake, Trophy Club, Watauga, and Westlake.  
David's home base is Dallas, so he generally services the cities of Arlington, Cedar Hill, Dallas, DeSoto, Duncanville, Farmers Branch, Garland, Grand Prairie, Hutchins, Irving, Lancaster, Mesquite, Plano, Richardson, and Rowlett.  These cities indicate our maximum travel range.  Outside of these areas an additional travel charge would apply, or if Jim and David crossed areas.
Call Debbie at 817.305.0300 or email

[email protected]

if you're unsure whether we travel to your area without an additional travel charge, which generally ranges from $25-$50 per day.