Surface Type

⇔

FIBERGLASS
Fiberglass fixtures are made by forming layers of fiberglass into the desired shape, then coating it with a gelcoat resin. Fiberglass fixtures are lightweight and inexpensive, but they also have a low shine, are prone to stress cracks and fading, and typically do not have a smooth surface.
BATHTUBS
Most fiberglass bathtubs are 5 foot rectangles.  However, fiberglass tubs can also be molded into a unit where the tub and surrounding walls become one molded piece.  Fiberglass tubs can also be square, round, or oval-shaped garden tubs, with or without jets.
Because of all these variables in size, in order to give you a bid for refinishing, we will need pictures and 3 measurements (length, width, and height).  When taking these measurements, do not dip down into the tub.  Instead, just measure straight across the tub from front to back for length; side to side for width; and for the height, measure from the outside of the tub starting at the bathroom floor and go straight up vertically to the top of the tub.
With pictures and these 3 measurements, we will be able to give you an accurate bid.  The best pictures will include an overall image of the tub, as well as specific images of damage (rust, chips, stains, cracks, pits).
Our standard color is white or off-white, but if you want a specific color and have the number and/or name of it, we can probably "special order" it from our manufacturer at an additional cost of $125. Please note that we do not refinish in dark colors because even in the semi-sterile environment we try to create, there are still minute dust particles that float through the air that can be seen on a dark surface.
If you don't need a special color and are just trying to match the existing color to a toilet or countertop that is some variation of white or off-white, Jim has a great eye for color, and can tint the pure white color he starts with to get close to the color you're trying to match.
SHOWERS
If you have a fiberglass shower, the best way to spruce it up is to have it refinished, especially if the finish has become dull.
Showers can be any size or shape, so we will need pictures, and measurements for the length and width of the shower walls, as well as dimensions of the shower floor to get you an accurate bid.
If you're replacing the shower doors, the time for refinishing is after the old doors are removed and before the new doors are installed.
SHOWER FLOORS

There are times when the walls of your shower still look good, but the fiberglass floor you stand on looks really bad.  This is exactly what refinishing is for!  We can refinish just the shower floor without having to refinish the shower walls, if the two pieces are separate (not one molded piece).
To get a quick bid, email pictures of your shower floor, including measurements, which usually range from 3x3 to 3x5, to the email address listed above.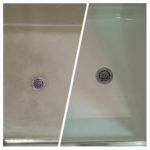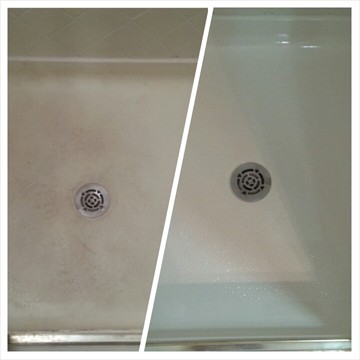 Discoloration on a shower floor doesn't usually indicate damage (like it does in a porcelain bathtub).  Repairs on small cracks are included in the cost, however.  depending on the severity, a large crack in a shower floor can add up to $250 in additional repair costs.  That's because cracks are usually indicative of and caused by an underlying problem.  Perhaps the floor was not supported properly when the pan was installed, or maybe the house has shifted.
In any case, the only way to try to support it from underneath is to drill one or more small holes in the surface and use a Froth Pak (a 2-piece insulation and sealant product) to try and fill up the cavity beneath the damage.  We of course, cannot guarantee this flawed area won't crack out again at some point in the future, because the underlying source of the damage has not been addressed.  Having said that, we've only seen a handful of failures over the past 40+ years, so it's a good alternative to try to avoid replacement.
Please note that fiberglass floors, especially those that have been refinished before, sometimes get "hairy" - or fibrous - after prepping them for refinishing. When this happens, you may be able to see some small fibers or feel the texture of them after refinishing, but the refinished floor will still look great. If you put a magnifying glass to it, you may be able to see some fibers, however it doesn't affect the integrity of the refinishing in any way.
CHIP REPAIR
We've been doing chip repair for homebuilders and homeowners across the Dallas/Fort Worth metroplex for many years.  From hammers dropping into tubs, to soap dishes and towel bars falling off the wall, chips can happen in homes under construction, in homes just built, and in homes lived in for years!

There is a $175 minimum charge for chip repair.



Just because a tub or sink has chips, nicks, or scratches, it doesn't necessarily mean it has to be completely refinished.  If the damage is located above the water line, it can be repaired.  If the damage is located below the water line, it can still be repaired, but not guaranteed, because the water can eventually loosen the repair.  In cases like this, we recommend refinishing, so the repair is sealed and the work can be guaranteed.
More About REPAIRS
Please note that our warranty is specifically related to the two things under our control:  workmanship and product defects.  We do not guarantee that rust, cracks, or holes won't reappear later in a bathtub, shower, sink, or shower floor if the underlying source of the damage (possibly a house shift, improper initial installation, water leak, or previous damage to the same area) has not been corrected.
Service Areas
Our service areas extend to most of the Dallas Fort Worth metroplex. Jim's home base is Colleyville, so he generally services the cities of Argyle, Bedford, Carrollton, Colleyville, Coppell, Euless, Flower Mound, Fort Worth, Grapevine, Haltom City, Haslet, Hurst, Justin, Keller, Lewisville, Northlake, North Richland Hills, Richland Hills, Roanoke, Saginaw, Southlake, Trophy Club, Watauga, and Westlake.  
David's home base is Dallas, so he generally services the cities of Arlington, Cedar Hill, Dallas, DeSoto, Duncanville, Farmers Branch, Garland, Grand Prairie, Hutchins, Irving, Lancaster, Mesquite, Plano, Richardson, and Rowlett.  These cities indicate our maximum travel range.  Outside of these areas an additional travel charge would apply, or if Jim and David crossed areas.
Call Debbie at 817.305.0300 or email

[email protected]

if you're unsure whether we travel to your area without an additional travel charge, which generally ranges from $25-$50 per day.